Despite my pining for a BOB Revolution SE Duallie, I decided a couple of weeks back that I was indeed too much of a cheap bastard to plunk down $500+ for a freaking stroller. I decided to compromise and get a used dual stroller and and then a jogging stroller of some type. I was happy to find a second hand Baby Jogger City Mini Double on Craig's list for about 1/2 of what they retail for new. We had rented one on a Disney trip back in October and knew that they were easy to fold and push and were relatively hopeful that it would fit through our front door.  During that trip, it was a crap shoot as to which child would actually sit in the stroller and to be honest, I think we only had a grand total of 5 minutes where they would both sit in it at the same time since my youngest preferred to be worn and my oldest preferred to be running as amok.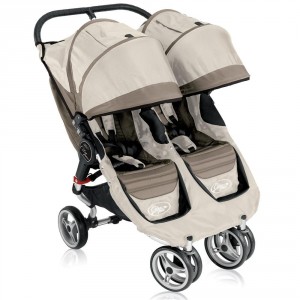 I was ecstatic when I found that not only will they willingly go for walks around the neighborhood in the City Mini, but they would both fall asleep in it during said walks. The City is very easy to push, relatively easy to fold (though I did manage to whack myself in the lady bits the first time I tried it, luckily I managed to not teach the niblets a new word). Much like many of the higher end strollers, this one doesn't come with any extra add ons, but mine had the parent console which I like, since Mommy needs her go go juice in the morning (coffee, not scotch). I can push it with one hand and it fits through my front door and it doesn't feel like I'm driving a bus. Mine is about 3 years old and the fabric is even holding up pretty well considering it is a lighter fabric. All in all, I was pretty much enamored with this stroller but alas, you can't run with it. Of course, then I met BOB.
I spotted BOB during a friend's neighborhood garage sale. It was not the illustrious duallie that I was looking for but a single Revolution SE. I was going to pass on it since I really need a duallie, but a nagging voice inside my head (not to be confused with the voices that are usually there…ha ha ha) told me to see how much they wanted for it since I could in theory always just go jogging with the kids one at  a time before I decide if they would even enjoy going running and skating with me. I swung by with a few minutes to spare and the owner gave me a deal that I couldn't pass up. It is in pretty good shape for a 2008, though it has some surface rust on the grommets from the fabric that attaches to the frame. Since we live in Florida, my guess is that it is from beach running but it had zero effect on its performance. Surface rust aside, I puffy heart BOB. I love being able to go from a swivel wheel to a locked wheel and it pushes like butter.
The problem is now that I now want a duallie super bad and I'm debating if I should keep the City and the BOB or sell them and put them towards what is essentially a down payment on a car albeit in stroller form. Update: since I have since discovered that this BOB has been subject to a recall, I can't legally sell it (blarg) so it looks like I'm keeping it. On a sidebar, WTF is up with not being able to resell things that are recalled if you fix the recall issue? In the BOB's case it is the backing on the embroidered BOB on the canopy and a drawstring that has to be removed.