We live in Florida, which during the summer becomes less "vacation wonderland" and more "sweat is rolling down the crack of my butt" not only is it steamy and hot, it rains…a lot. In fact with summer storms and the heat, it becomes our version of winter.  So after going through stacks of art supplies and still having a energetic (and now rainbow colored) toddler, I thought that this Wii game may be just the ticket.  On paper it seemed like a great idea. Dancing! Music! Kids! Energy Burning! We'd borrowed a copy of the original one and she had a lot of fun dancing with us as we attempted to dance (a border collie has more rhythm then our family).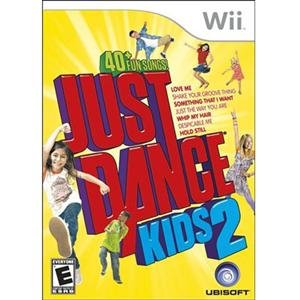 Since niblet is a consumate fan of all things Tangled, we started off with "Something that I want" which may have been my first mis-step. The game is pretty simple to get up and running. You pick a song and dance and sing along with the kids on the tv. The plus side is that the Kids' version is easy enough that I was able to follow the choreography. The music is innocuous and age appropriate and my daughter's eye's lit up when she recognized the song, except she recognized the song…stopped dancing and demanded we sat down and watched "Punzel".
I decided to try "Head and Shoulders" and started dancing to encourage my toddler to join me. Um…no. She looked at my rocking dance moves with disdain and said "NOT THAT… PUNZEL".
I'm looking forward to trying the game out again this weekend, with husband in tow because what could possibly be funnier then making Daddy dance to something like this? Muahahah! All in all its a fun game that is definitely a workout but 2 1/2 may be a bit too young to participate. It will be great to have on hand for any gatherings we may have when older kids pop by (or for epic laughs if anyone has too much wine at our house).
Update
The balloon popping mode where you dance until a balloon pops and then shake the Wii mote to collect items…HUGE hit. The niblet has also discovered it is fun to dance to songs she knows, so she is now allowing the song from Despicable Me, the Itsy Bitsy Spider, Jingle Bells, and Song 2 (kid has good taste in Blur apparently).