One thing I always bemoaned when making the transition to all natural skincare from my previous addiction to its chemical laden breatheren was the loss of the candy coated colors that were offered to me by companies like Urban Decay and Mac. Determined to not lose my style in the transition, I tried many natural pigments that looked deliciously bright in the container but either faded or smudged and smeared leaving me look like I was the victim of clown violence (if any clowns are reading this…well you scare me too). The other problem with most mineral makeups is that it typically exists in little containers of finely ground materials which get EVERYWHERE making it not only tricky to transport but interesting to explain if say your white highlight color spills out into your purse (insert obligatory Lindsey Lohan joke here).
So as a huge fan of Honeybee Gardens, I was super excited to hear about their new palettes. With three different offerings: The Party Girl, The Cosmopolitan, Rock The Smokey Eye these palettes are amazing.
Rock the Smokey Eye
Colors: Nirvana (matte white), Chrome (metallic gray), Falon (nearly black), Chivalry (iridescent plum)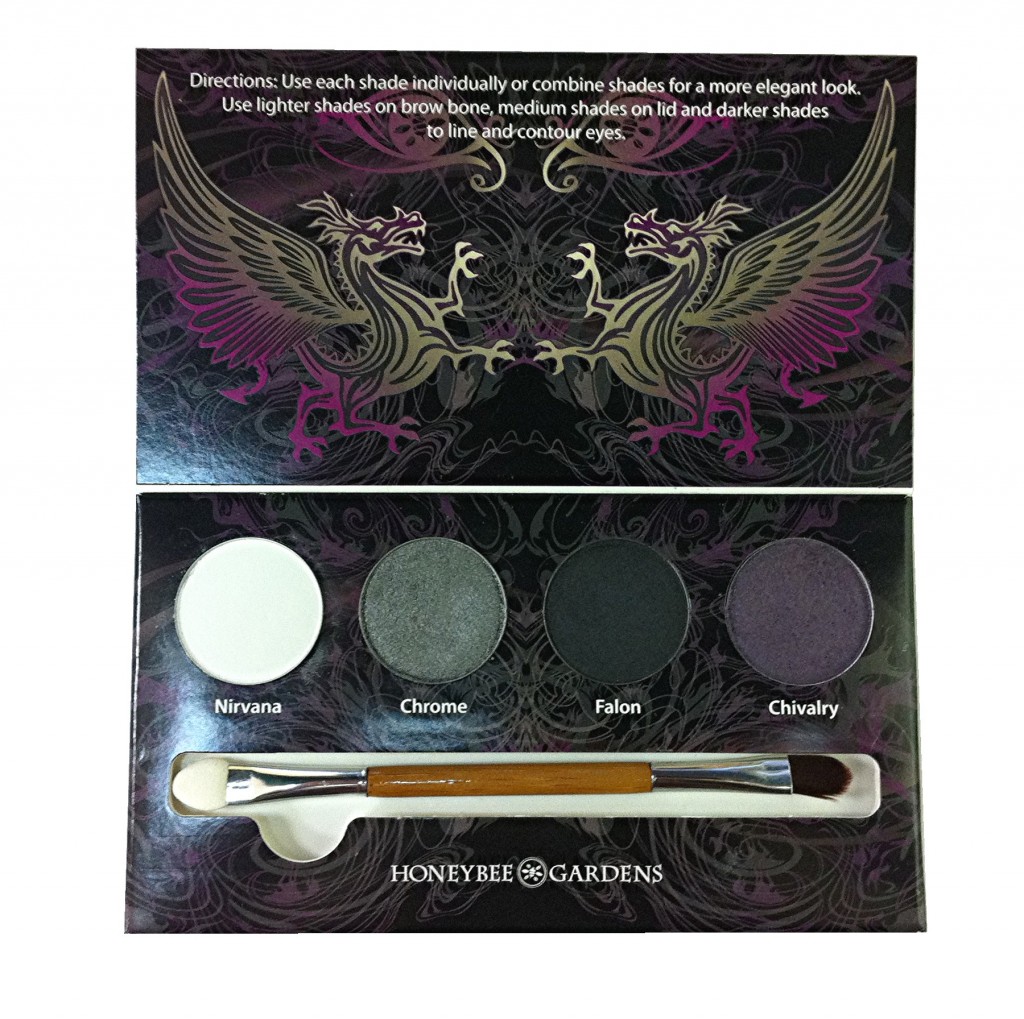 I admit that I was a little nervous about trying this one since I previously have had zero luck in pulling off the smokey eye (19 year old past Brie, I'm looking at you). 9/10 with previous attempts at pulling this off, I ended up having to start from scratch since my version of smokey eye looked more like the after picture of a drunken sorority girl who spent the evening crying at a kegger (the other 1/10 times resulted in pictures from my college days that I just cringe at since apparently the Jersey Shore look was alive and well back in the late 90s). I've always loved the way a polished smokey eye looks when it is done right so I decided that I was going to practice it this time until I could pull it off (or at least a reasonable facsimile). Imagine my surprise when within 5 minutes I had accomplished the impossible while playing with youngest.  Keep in mind the photo below was 5 minutes from start to finish including Honeybee Gardens face powder, eyeliner, and a quick coat of mascara after using the palette. The brush that comes with is a dual ended sponge/brush bamboo applicator and it works like a charm…also that shadow under my eye isn't makeup fall out…it is a 2 year old and a 7 month old that do not believe in sharing a sleep schedule. Chivalry and Chrome are my favorites of the colors since they are both very wearable metallics but Fallon and Nirvana are great for adding emphasis and pop.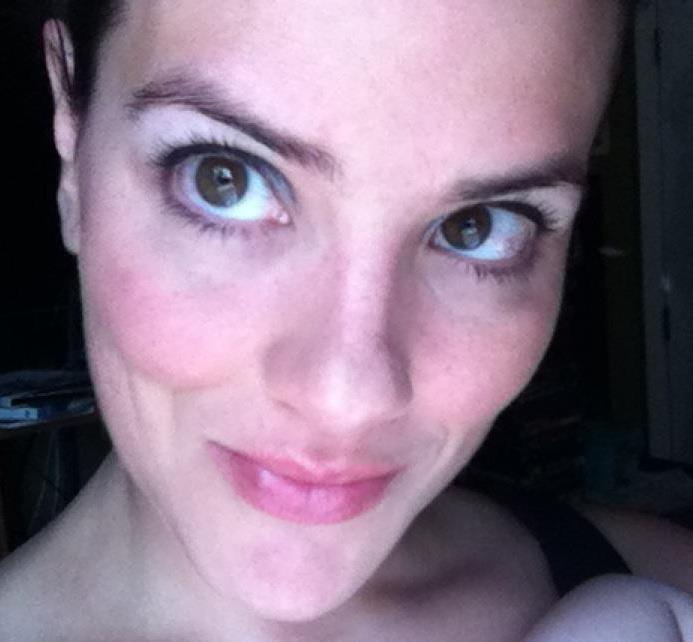 The Cosmopolitan
Colors: Kashmir (matte brown), Satin Sheets (sparkly gold), PS Pink (matte medium pink), Angelic (sparkly pale pink)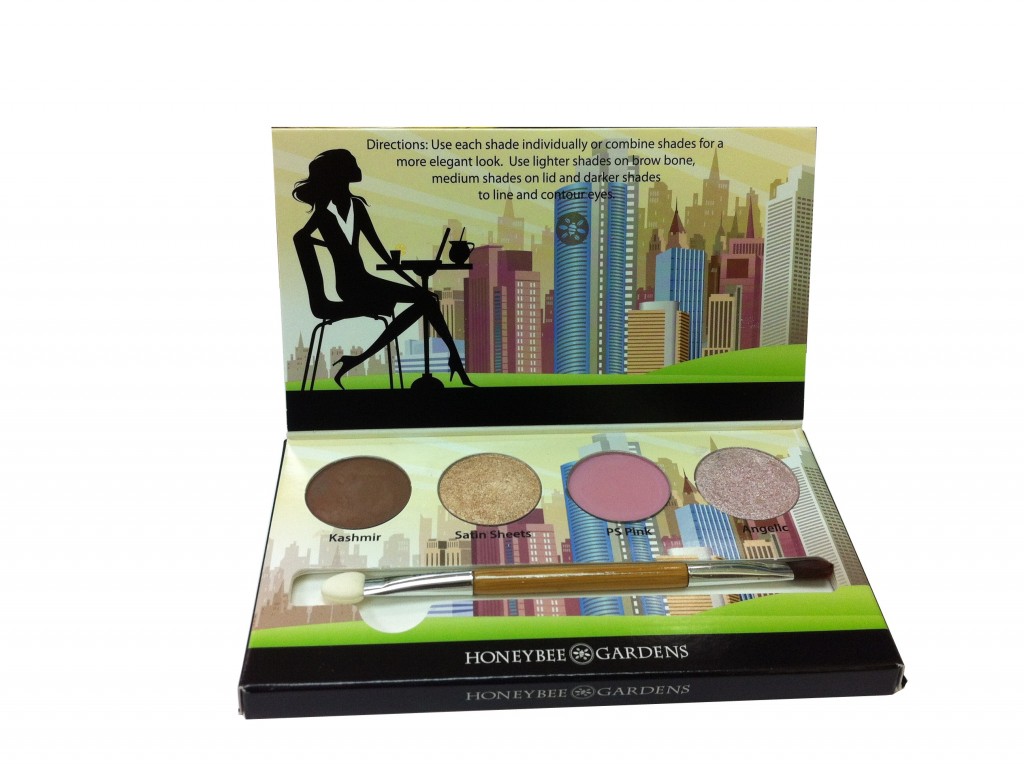 This one has been my day to day staple for a good couple of weeks. I throw it in my gym bag and then post early a.m swim when I need it the most (nothing says purty like goggle marks and a cap line) I can put myself together enough as to not scare anyone as I head out to my car. I usually pair Kashmir with Satin Sheets or PS Pink with Angelic, though some days I go a little crazy and use all 4 like I have below. Satin Sheets is shimmery deliciousness and I cannot get enough of it. Look, I actually look like someone who may have actually gotten sleep.

Party Girl
Colors: Velour (matte plum), Mojito (matte green), Cupcake (matte pink), Shipwreck (matte blue).
This one is a lot of fun to play with, all the colors are mattes but you could also use them with any of the other palettes if you want to mix in a little shimmer. You can go subtle with a light wash of color or you can can layer colors together for a little bit more fun.  I decided to play around and see how bright I could take it and still get away with it (and by get away with it, I mean my husband not falling over laughing when I walked out of the bathroom).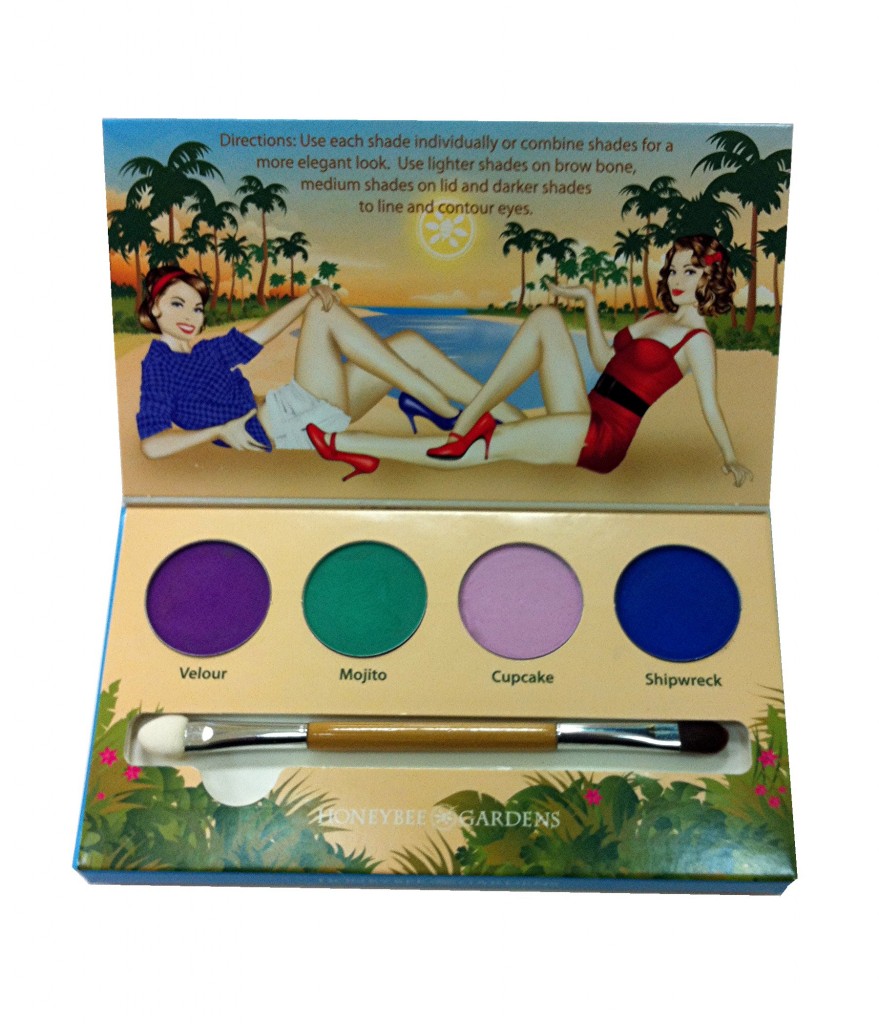 I used Velour, Cupcake, and a little Shipwreck and I thought the combination was a lot of fun. It looks different depending on the light so you can see in this one with flash and the one below it without. I only used the included brush with a Qtip to clean up a little around the inside of my eye. I tried this one out during naptime, so I spent about 5 minutes playing with the colors. I can't wait to mix Mojito (mmmmm Mojito) with Shipwreck. Also forgive the blotchiness, those are teeth marks from my baby who hasn't learned that kissing is not done while clamped down on Mama's face like piranha. LOL.