I've officially become the sort of yuppie asshole parent that waits in line for 3 hours just to see the "good" Santa. To be honest, I didn't even realize that there WAS such a thing as a 3-4 hour wait to see Santa except in that scene in A Christmas Story.
We had heard that the Mall at Millenia Santa was the best and that the lines could be long. We had visited him the previous year but by some amazing timing, were at the mall the day he arrived in November and had zero waits.  However, their photographers this year are REALLY good with kids and were able to work in tandem to get some cute photos of my kiddos at Easter (not an easy feat). We figured we'd get there before opening and maybe have an hour wait in exchange for photos of Christmas Magic.
Except, when we got there we saw that all the other BOB wielding, Starbucks clutching parents had the same idea as us (also BOB wielding and Starbucks clutching). Once our oldest saw the lights and the trees and Santa, were were pretty much all in.
So how does one wait in line with a two year old and a one year old? Well, we took a lot of turns walking them around the mall, which included one purchase of shoes for the youngest, and a freaking 6 dollar smoothie. We made friends with people in line and we unbelievably lucked out when we ran into Grandma shopping at the mall so we had a 3rd set of hands on deck (thanks mom).
Santa was one lucky elf when we prevented not one but two potential diaper/pull-up related disaster mere minutes before finally getting to our place in the front of the line. My youngest was pretty much over waiting by the time we were almost to the front of the line.
Was it worth it? As a photographer myself, I appreciate that I can purchase the CD from them directly so I can print, edit, and use the images as much as I want and with a team of child wranglers on hand for photo opps, the photos were really much cuter then I'd be able to cajole from my children if they were sitting on a strange man's lap. They did some awesome ideas, like keeping my youngest focused on a glow toy so she didn't look back and see Santa right off the bat. Plus I got almost 40 images on a disc versus the 1 I'd get if I just bought the photo print. Especially since I can arrange them to be hilarious like these.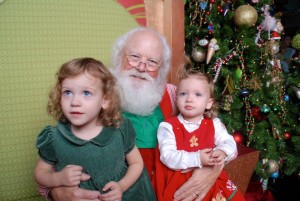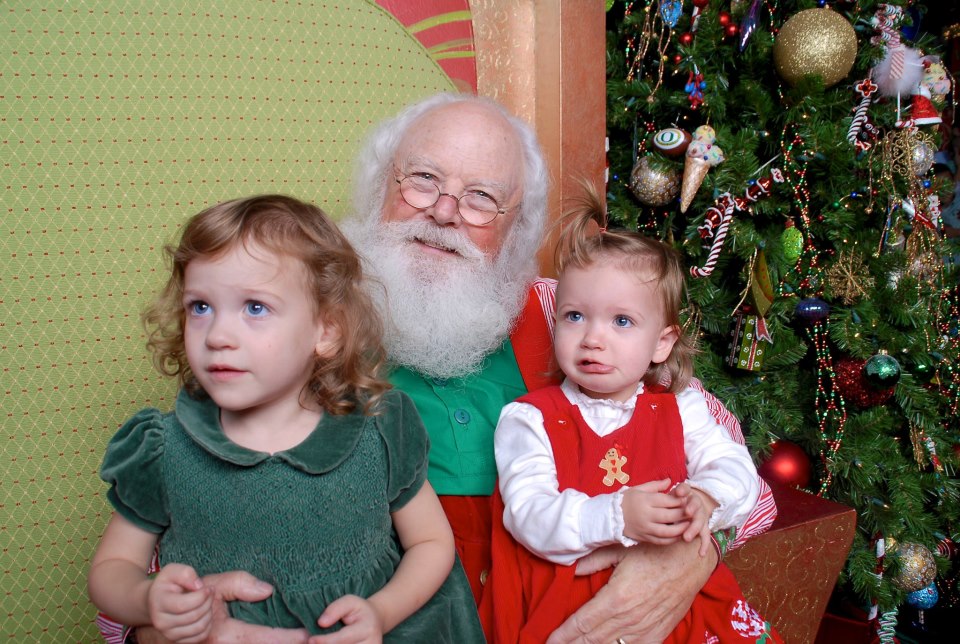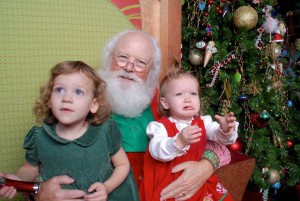 They also include some cute candids of the kiddos (depending on how well they're up for it) with the disc. So all in all, we felt at least we got our time's worth in cuteness but I still can't believe I waited 3 hours to see Santa. Mommy better be on the nice list this year.